Tooth decay still on the rise among English children
By Dominic Howell
BBC News
26 February 2016

From the section

Health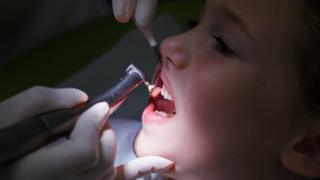 The number of children in England having their teeth removed because of decay has increased for the fourth year in a row, new figures suggest.
In 2014-15 there were 33,781 cases of children, aged 10 and under, needing the removal of one or more teeth – a rise of 3% on the previous year.
The Chief Dental Officer for NHS England, Sara Hurley, described the figures as "disappointing".
She said children in England drank more sugary drinks than anywhere in Europe.
"Even though people understand the impact of a sugary diet so many children have advanced tooth decay – a highly preventable disease," said Ms Hurley.
"We are also creating a legacy of obesity and significant health problems.
"If we are to get serious about tackling this then prevention is the key," she added.
'Unacceptable'
Since 2011-12 there has been a steady rise in the number of children needing tooth extractions, according to statistics collated by the Health and Social Care Information Centre (HSCIC).
Over the four-year period there were 128,558 cases in total of children having teeth removed because of decay.
And the 2014-15 figures show a 9.8% rise from the 30,761 recorded in 2011-12.
Prof Nigel Hunt from the Royal College of Surgeons said: "An almost 10% increase in the number of children being admitted to hospital for tooth extraction due to decay over a four-year period is unacceptable."
"The need for tooth extraction continues to be the number one reason why five to nine-year-old children are admitted to hospital."
He also said that poor oral health education was another reason for the rise.
'Deprivation correlation'
The figures also showed a wide regional variance across England.
For example, in 2014-15 the rate of tooth extractions in Yorkshire and the Humber was 894.5 for every 100,000 people (6,413 episodes).
That was more than five times the rate recorded in the East of England, which was 164.5 per 100,000 population (1,328 episodes).
The authors of the HSCIC study said: "Nationally, there is a strong correlation between area deprivation and the rate of tooth extraction."
"As deprivation increases so does the rate of tooth extraction."
London had the most children needing hospital admission as an inpatient for tooth decay, with 8,362 cases.
In the North West, there were 6,672 cases, and 6,413 in Yorkshire and Humber.
The shadow public health minister, Andrew Gwynne, described the figures as "disturbing".
"The government should be standing up for parents, particularly those living in more deprived communities, and helping them to tackle tooth decay," he said.
A Department of Health spokesperson said: "Children's teeth are dramatically healthier than they were 10 years ago, but we still know there is more to do."
"We are radically changing NHS dentistry, so that dentists will be paid for keeping the nations' teeth healthy, rather than just for treating problems as they arise."
The figures over the past four years break down as follows:
2014-15 – 33,781 episodes of care
2013-14 – 32,741 episodes of care
2012-13 – 31,275 episodes of care
2011-12 – 30,761 episodes of care
What is tooth decay?
Tooth decay is caused by plaque collecting, in particular, around the gum line, the edges of fillings and the grooved surfaces of the teeth.
Plaque is made up of food debris, saliva and bacteria normally present in the mouth.
The acids generated by bacteria breaking food down can begin to attack tooth enamel within 20 minutes of a meal.
If plaque is allowed to collect over time it will harden into tartar.
Both tartar and plaque contain acids which, over time, can dissolve the protective, hard, enamel coating of the tooth and create holes, or cavities.
Most cavities form over a period of months, or even years.
They are usually painless, but they can grow very large and damage the much softer internal structures of the tooth such as the dentin and the pulp, which is found at the core.
If they remain untreated, they can kill the nerve and blood vessels of the tooth, and ultimately the tooth itself.
The most obvious sign of tooth decay is toothache, particularly after hot or cold food or drinks.
Pits or holes may also be visible in the teeth.
Plaque and tartar also irritate the gums, and lead to a gum disease called gingivitis.
Powered by WPeMatico